2022 Scholarship Night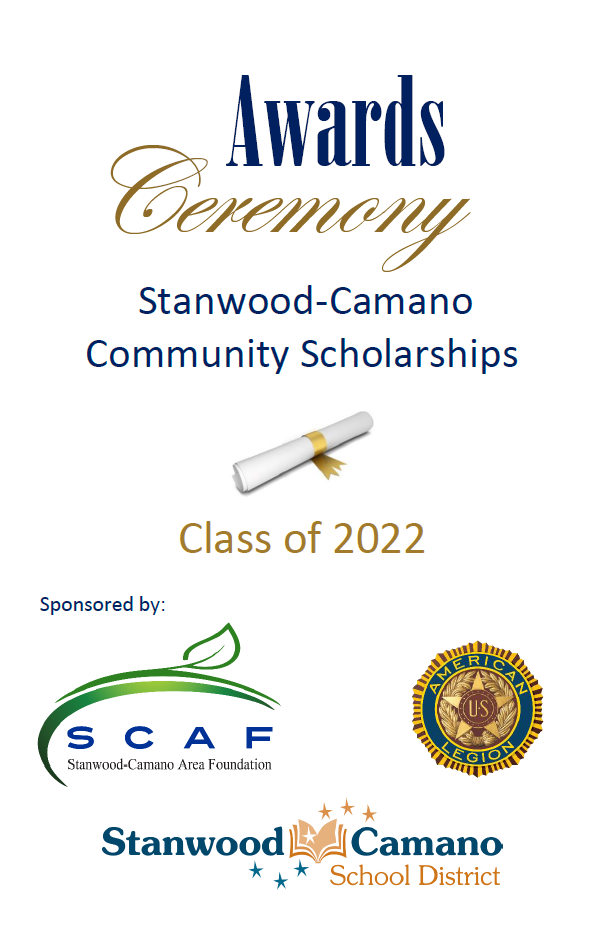 The Stanwood Camano Area Foundation, in partnership with Stanwood High School and the American Legion Post 92, hosted their annual Scholarship Night Event to present Stanwood-Camano Community Scholarships for local seniors on May 31. The livestream recording of this event is available for viewing at https://shs.stanwood.wednet.edu/event_streaming.
106 graduating seniors received 258 scholarships from 108 donors, valued at $258,701. 18 of those scholarships were renewable for an additional one to three years, bringing the total value of the awards up to a record breaking $308,701.
All scholarships presented on Scholarship Night are sponsored by local individuals, families, businesses, and community organizations. Many are from endowments that were set up years ago by local families to create a perpetual annual scholarship in memory of a lost loved one. Any senior living within the Stanwood-Camano School District is eligible to apply, even if homeschooled or attending a private school.
Scholarships awarded this year are:
Agriculture Mechanics Memorial, Albers Scholarship, American Legion Post 92, American Legion Auxiliary 92, Sons of the American Legion Post 92, American Legion Auxiliary Post 207, American Legion Post 207, Andrew Pinkham Memorial, Austin Esary Memorial, Bertha Jones Memorial, Bonnie Susan Cole Memorial, Camaloch Men's Club Junior Golf, Camanio Lodge #19 / T. Dolvin Memorial Scholarship, Camano Arts Association, Camano Island Chamber of Commerce, Camano Island Fire & Rescue/Island County Fire Chiefs, Camano Plaza IGA Hometown Proud, Carly J. Houser Memorial, Cascade Valley Hospital Medical Staff*, Charles & Donna Cole Memorial, Children's Memorial, Cliff Myron Memorial, Close to My Heart Theater Arts, Cordona Family, Daniel E. Moss Memorial, Davis Carlson Memorial, Dayna Fure Memorial / Merrill Gardens, Designs Northwest Architects, DiAnne Shoup Memorial, Dr. Dennis and Sharon Couch Future Teacher, Edward & Katherine Jones Memorial, Eldon Allen Memorial, Emil C. Jensen Memorial, Erik Robertson Memorial, Floyd & Delores Jones Memorial, Floyd Norgaard Memorial, Friends of Camano Island Parks*, Future Farmers of America, The Gilroy Law Firm, The Gilroy-Matzke Fine Arts*, Glen & Margaret Johnson Memorial, Glenn & Sally Turk Memorial, Gordy Andrews Memorial, Grover Love Memorial, Hair by Kerrie*, Harry Heintz / Stanwood Volunteer Firefighters, Henning Family Memorial, Hope Unlimited, Husby Family Memorial*, James B. Lund Agricultural, The Jenkins Alumnus*, Joey Dettrich Baseball Foundation, John Strandjord Memorial, Joseph & Cathlyn Holton Computer Science, JR Richeson Musical*, Kiwanis Club of Stanwood-Camano, Lars Holum Memorial, Lyle & Eleanora Foster Memorial, Mabana Flames, Melenia Hill Memorial*, Michael Lee Scholarship, Michael & Shirley Rancich Memorial, Mike Buse Memorial, Norman & Antoinette Buse Memorial, North 48 Real Estate, North County Fire Fighters Association 9/11 Memorial, Northend Family*, NorthSound Physical Therapy – Celebrating 30 Years, Northwest Veterinary Clinic-Andrew Stang Memorial, Our Saviour's Lutheran Church, PALS / Patty Besancon Memorial, Penny Buse Scholarship, RE/MAX Elevate, Robert & Marion Nicholas Memorial, The Rose Emilia Memorial*, Ruth Gavin Memorial, Samuel & Gertrude Pusey Memorial, Sandra Ochoa-Buenrostro Memorial*, SCAF Christian Ed, Schlagel Insurance Agency*, Schlosser Family Scholarship Fund, Seth Nelson Memorial, Shelly Greer Memorial, Shields-Life Long Learning-SCP Alumni, Snowden Family Memorial*,  Sobotta Family, Stanwood 4A Booster Club, Stanwood-Camano Arts Guild, Stanwood-Camano Rotary Foundation, Stanwood Camano PSE-SEIU, Stanwood Foursquare Church, Stanwood Lions Club, Steelhead Swim Team, Stillaguamish Grange #1058, Stilly River Mechanical, Sven & Hildur Skoglund Memorial, Taylor Family Memorial, Theresa E. Nicholas Memorial, Triplett Scholarship, Twin City High Class of 1952, Twin City Idlers Car Club, Twin City Sportsman's Club, Utsalady Ladies Aid, Village Chiropractic Clinic, Wana Duma Children's Project, and Windermere Real Estate. (* denotes new scholarships this year)
Anyone can sponsor a scholarship! To find out more, contact Natalie Hagglund at the Stanwood-Camano Area Foundation; natalie@s-caf.org.
This year's scholarship recipients are:
Lorelai Adams, Natalie Alexander, Garrett Allison, Paige Almanza, Davin Arvelo, Cameron Bailey, Sophia Bailey, Kylie Barnhart, Kolten Bartram-Scott, Declan Berry, Sean            Bladek, Samantha Bozarth, Vastella Britt, Jennifer Bueschke, Isabella Carroll, Ava Cook, Alyson Dahl, Connor Dahlberg, Audri Day, Samuel Down, Tess Down, Mallory Duffy, Kormik          Dunbar, Elleigh Fazekas, Colton Finnegan, Emma Floyd, Ellie Fongemie, Olivia Forcier Capper, Samantha Fozard, Salma Garcia-Esquivel, Maegan Garrison, Andrew Gibson, Brandt          Gilbertson, Jonathan Hagglund, Layla Hall, Leona Hansen, Ethan Hayes, Ella Heib, Grace Henken, Mackinley Hepper, Baylor Hezel, Preston Ing, Parker Johns, Hunter Jones, Savannah Jones, Lili Jones, TJ Jones, Dakota Kent, Mischa Kessler, Makenna LaComb, Maci Larsen, Aidan Link, Faith Lohnes, Zoie Lumsden, Kaylie Lyons, Maya MacDonald, Claudia   Martinez, Kiaira Mascarenas, Kiley McCall, Ella McCullough, Kaeden McGlothin, Davnia McKnight, Ayden Medina, Emily Mickelson, Kathryn Miller, Koby Miller, Matlyn Miller, Brady Moore, Payton Moore, Shane Moriarty, Emmalee Murry, Karli Niegemann, Carlos Olivares, Hannah Olivares, Nathan Palmquist, Hannah Pedersen, William Rawls, Blake Reid, Charles Rhodes, Marissa Ringness, Sheridan Robbins, Kristen Ronning, Griffin Satterfield, Mackenzie Schaffer, Kameron Scott, Layne Seay, Ashley Sellers, Wyatt Smelser, Elijah Smith, Isaac Smith, Samuel Stanton, Mali Stogner, Olivia Swanson, Jada Timmer, Jordanne Van Putten, Vanessa Vela-Martinez, Autumn Vining, Christine Wennerberg, Hannah West, Emma Wheeler, Connor Wickstrom, Jalil Williams, Grace Winter, Madeline Woodruff, Lainey Workman, Amanda Young
Congratulations Class of 2022!