Floyd and Delores Jones Endowed Fund
About Floyd and Delores Jones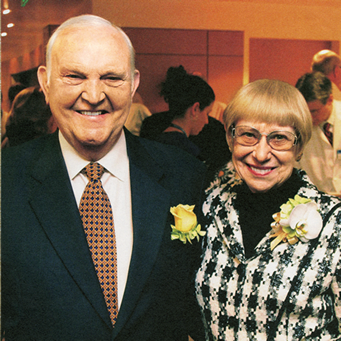 Floyd Jones, the donor of this endowed fund, made the following comment about the charitable gifts he and his beloved wife, Delores, were able to make:
"Maybe Delores and I were destined to have a good marriage because we both wanted to do good and be good. I always wanted to do the right thing, to be helpful, to be good. What amazes me is that it all turned out so well. It was like a dream come true. Neither my wife nor I thought we would ever do big charity, but before we got through, we were doing big charity. Nothing could please me more than that, because this is how I used to daydream as a boy."
Much of that boyhood was spent in southeastern Missouri near the small town of Morley. It was a hard scrabble life for the Jones family, and Floyd, the eleventh of twelve children, often had to miss school to pick cotton and do other field work to help put food on the table for the family. In 1945, during his senior year of high school the family moved to California, and the following year Floyd graduated from high school and joined the army. He knew that a two-year enlistment would qualify him for the GI bill, and he had concluded that a college degree was essential if he was to make a good living. After two years he was relieved of active service and enrolled at Humboldt State College in California, but since he was in the reserves he was called back to service and finally discharged in 1951.
During his last term of military service he was stationed at Fort Lewis, and while there met Delores, a lovely Swedish-American woman, who had grown up in the Stanwood-Camano Island area. He returned temporarily to Humboldt State, but so missed Delores that he moved to Seattle to be near her. Determined to complete his college degree, he enrolled at the University of Washington, majoring in World Trade and Finance. He attended classes during the day and worked a Boeing graveyard shift at night.
He and Delores were married in 1953, and the following year he graduated and immediately took a job at Dean Witter in Tacoma. He soon distinguished himself by his ability to secure new clients and to make good investment decisions, and he rose rapidly in the company. In 1980 he left Dean Witter for First Washington, where he focused on managing client assets with considerable success. He once commented, "I was a much better stock picker than I was a cotton picker." One of those stocks was Berkshire Hathaway. He was an early investor before the brand became so well known. He enjoyed the annual meeting of investors with Warren Buffett in Omaha. Subsequently, he formed Seattle First Asset Management, where his son, Steve, succeeded him as manager. At this firm Floyd and his son were engaged in the management of assets for individuals and institutions.
When Floyd was a high school student in Morley, Missouri, a teacher whom he affectionately referred to as "Miss Ruth" awakened in him an intellectual curiosity and introduced him to great literature. Although he pursued a career in the investment business and became very successful, he always retained his interest in world affairs, literature, and the arts, and enjoyed writing poetry.
Floyd had a long association with the Stanwood-Camano area, both as a property owner and because his wife came from here. Because of those connections he established a legacy endowment with the Stanwood-Camano Area Foundation, the income of which can be used by the Foundation to fulfill its mission.