Community Grants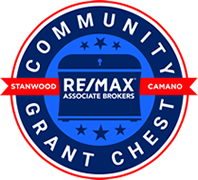 The RE/MAX Community Chest Grant Cycle for 2020 is CLOSED
An important note regarding the 2020 grant cycle. Due to the impact of COVID-19 on the operating income of many community nonprofits, priority will be given to nonprofit organizations providing essential services to vulnerable populations. This year, nonprofit organizations are invited to request grants for operating funds rather than specific programs or projects. If your need is not urgent and can wait until Giving Tuesday or until next year's grant cycle for possible funding, please do not apply for a community grant this year.
APPLICATION FOR 501(c)(3) AND PUBLIC AGENCIES
APPLICATION FOR 501(c)(8) OR 501(c)(19)
PARTICIPATION REQUIREMENTS FOR 501(c)(8) AND 501(c)(19)
Who Is Eligible to Apply?
Nonprofit Organizations – Any active 501(c)(3) nonprofit organization with a project in need of funding that directly benefits the community is eligible to apply. (Organization must be listed as active on the IRS exempt organization verification site, https://apps.irs.gov/app/eos.)
501(c)(8) and 501(c)(19) organizations are also eligible to apply, but must fill out a separate application and follow expenditure responsibility participation requirements (download participation requirements here).
Public Agencies – Public agencies such as schools, libraries, parks, fire and police departments with an unfunded project that directly benefits the Stanwood-Camano community may apply.
Grants are available for both projects and operating funds. Projects must meet the following criteria to be considered:
They must directly benefit the Stanwood-Camano community (defined by the boundaries of the Stanwood-Camano School District).
They must be realistic and attainable.
They must have experienced project staff and/or volunteers in place who can successfully implement the project.
Operating fund grants are only available to 501(c)(3) nonprofit organizations physically located within the boundaries of the Stanwood-Camano School District. Operating fund grants are most likely to be awarded to start-up ventures rather than established nonprofit organizations.
All applications will be reviewed by a selection committee, which will, at its sole discretion, select projects to fund.
Application Deadline & Submission Instructions
Completed applications should be submitted to SCAF no later April 10, 2020. They can be e-mailed, mailed, or dropped off.
By e-mail:   bev@s-caf.org
By mail:     Stanwood-Camano Area Foundation
                  P.O. Box 1209
                  Stanwood, WA 98292
In person:  Stanwood-Camano Area Foundation
                  10101 270th St. NW; Suite 219
                  Stanwood, WA 98292